Powerful permanent Magnetic Chuck
Product Description
Description:

With transverse pole pitch P=15mm, 3mm brass /12mm steel, neodymium magnets enhanced huge holding force.
Application:
Heavy machining, such as milling and planning.the dense, concentrated magnetic field enablesit to be used for small, medium and large workpieces, including those with rough or uneven surface.the magnetic field is without any stray field , preventing magnetization of tools.
Features:
Exceptionally strong neodymium magnetic system.ON-OFF control by means of hand lever.In the OFF positsion.a weak opposing field eases the removal of the workpiece.The magnets are equipped with longitudinal and transverse stopper.

Nominal holding force :250N/㎝²(JIS)

Magnetic field height: 12mm.

Pole plate wearing limit: 5mm

Pole pitch 15+4mm can be produced.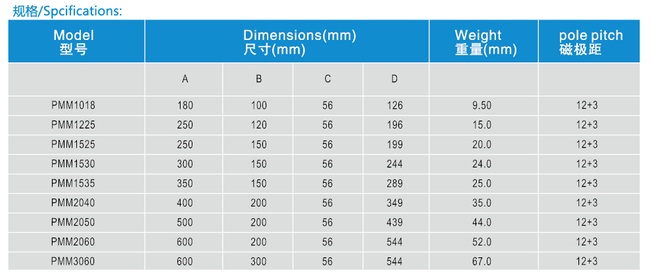 Category: Rectangle permanent magnetic chuck