Paralled Pole Electro-Permanent Magnetic Chuck
Product Description
USE:

Middle transverse pole arrangement ,suitable for grinding application of all size of jobs .

Electro-Permanent Magnetic Chuck are suitable for horizontal spindle surface grinding machines as the main cuttingn thrust is towards the length of the chuck,poles at right angle of the wheel give more gripping of the job.

For universal machine and heavy milling.

Lamination3mm brass/12mm steel.

min.size of workpiece:95×95mm²

Nominal holding force :150N/㎝²
Featurs:

The magnetic field is without any strary fields. preventing magnetization of the tool.

No heat build up or deformation provides high precision accuracy.

No Electricity required to keep the electro-permanent magnetic chuck on.

Variable power makes it possible to adjust the magnetic force.

Electro-permanent magnetic chuck can be easily fixed to the surface grinder.

These electro-permanent magnetic chuck are also available in long pole design.

Large area can be arranged by multiple mouning of EPM chucks side by side which can be operated by a single controller.

Special purpose chucks can also be designed to suit particular applications.

Pole pitch of 19mm(15+4)can be made at extra cost.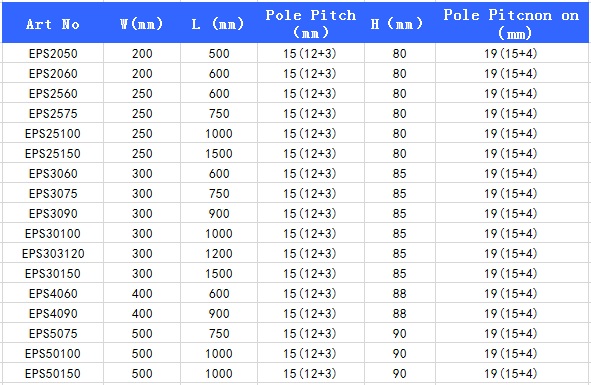 Other size on request